2 PACK OR NOT 2 PACK..THAT IS THE QUESTION!

Many DIY painters are a bit nervous about using two pack products – this is usually as a result of not understanding a few simple "rules". So before you settle for the simple (but less durable, long lasting) single can of paint, we have outlined a few key points to remember, armed yourself with these […]
WIN TICKETS TO THE TAURANGA MARINE SHOW!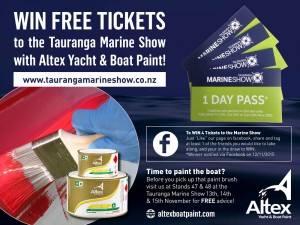 Like us on Facebook, tag a friend and share and you are automatically in the draw to win not 1, not 2 but 4 FREE Tickets!
ALTEX YACHT & BOAT PAINT ANNOUNCES THE RELEASE OF IT'S HIGHLY ANTICIPATED NEW LOOK PRODUCT RANGE…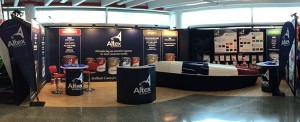 …however, it's what's going on inside the cans that is guaranteed to redefine the D.I.Y and professional Marine Painting market, throughout New Zealand! With refined and improved formulations, easy to follow systems, clever label designs and the introduction of new colour options, Altex Yacht and Boat Paint have carefully analysed the D.I.Y and Professional Marine […]